Instructions: Print from School PC
Printer Selection
Students can use the following printers:
PRINT MU (default)
Default printer. The default setting is black-and-white (grayscale) printing; for colour printing you need to change settings in printer properties before sending a document to print.
PDF Creator
A virtual printer that converts documents into PDF.
For printing on paper (not into PDF), make sure you have the default PRINT MU printer selected.
How to Print (on PC)
In the print properties, first choose whether the printing is to be black-and-white (default) or colour, one-sided / two-sided, etc. Send the document(s) to the printer. You can check your print jobs via the web interface at https://print.ucn.muni.cz (login with UČO and the secondary password).
How to Print (on a Printer)
Develop/Konica Minolta
Log in using your ISIC Card or the genereted PIN code.
| | |
| --- | --- |
| Login with an ISIC Card: | Login with a PIN code: |
| |   |
Select 'Print'.


Select 'čekající'.
Select the document you wish to print.
Begin the printing process by pressing the blue 'Start' button.
Log out using the 'Odhlásit/Přístup' button located on the right side of the display.


 
RICOH
1. Activate the printing device with your ISIC card or your generated PIN code.
2. After the user authentication, select the operation you want to perform (printing, copying, scanning). To print, touch "Print" on the touch screen and select the job(s) from the list you want to print.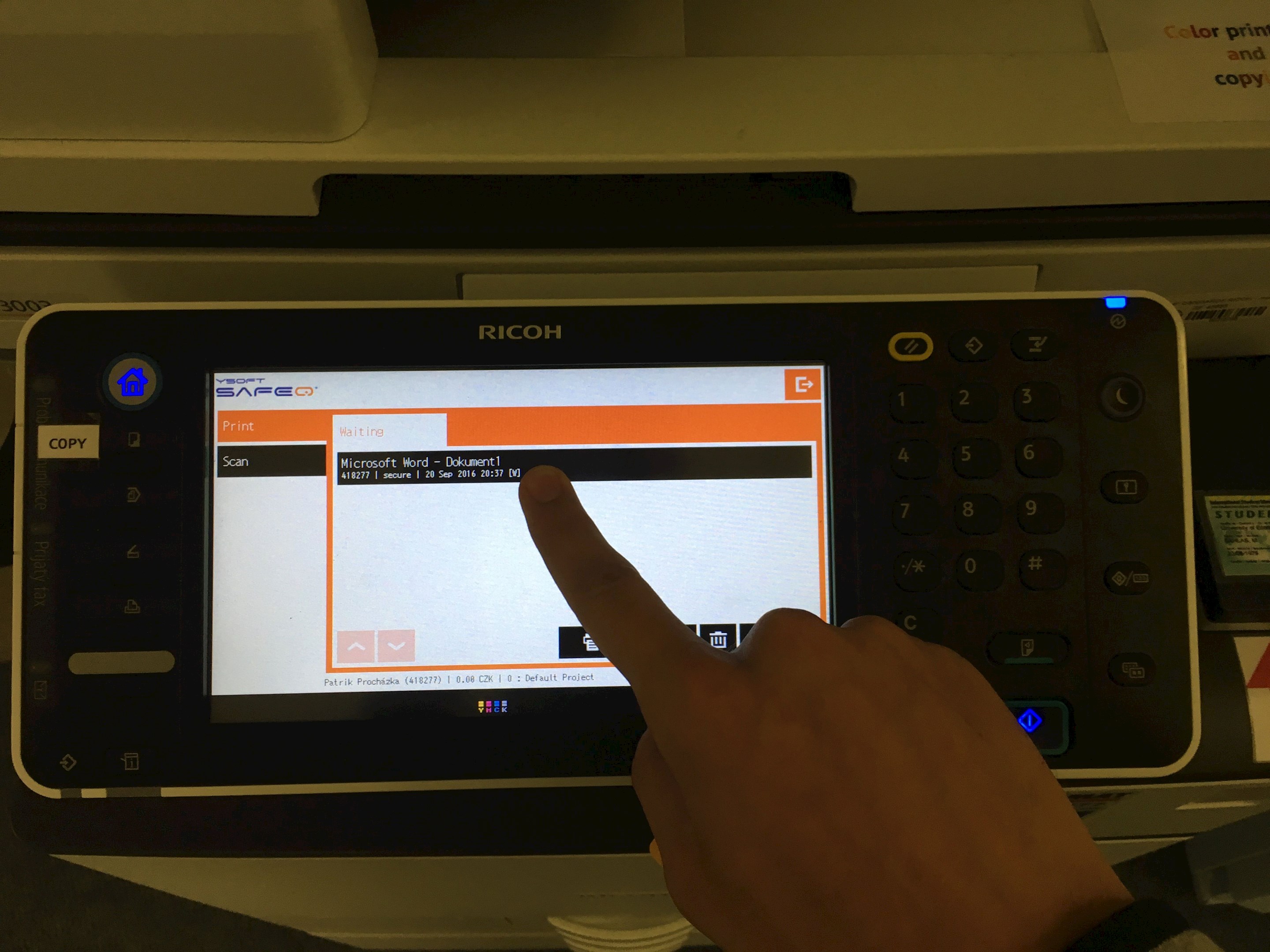 Tasks can be printed individually (printer icon) or in bulk (printer-with-files icon).
3. After completing the selected operation(s), the display will tell you how many pages have been printed (copied, scanned) and the final price that will be charged from your SUPO account.
4. To unsubscribe from the printer, attach the ISIC to the reader. If you do not log out, you will automatically be logged off after 1 minute of inactivity.