Instructions: Eduroam for Linux (Ubuntu)
1
Download and run the installation script for Linux from cat.eduroam.org
When the installer displays overview information, click at Agree
2
Tap Yes, if you wish to install MU profile for the eduroam network
3
Fill in userid:
UČO@muni.cz
 Confirm by tapping Agree
4
Enter your secondary password and then repeat the password once again
5
If your login data is correct and you are within the eduroam network reach, you will be successfully connected
Manual configuration
In main menu, click at the wireless connection icon. Select eduroam from the displayed offer.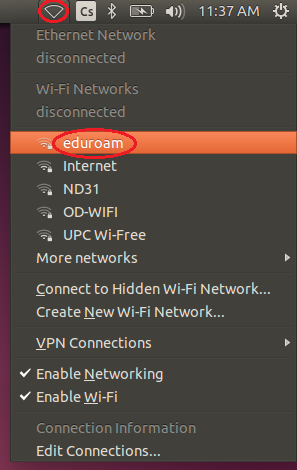 Then fill in all required data according to the image below and click at Connect.
Download the certificate here. After the download, click Choose CA Certificate and select the downloaded certificate.
Using the Eduroam network is not controlled by a firewall in any way. Hence, it is very important to secure your computer with your own firewall.
Still having trouble with connection?
In case you have trouble connecting, have a look at the  list of frequent problems.
In case you assume that the problem is on our side, you can report an incident.