Muni Yammer. Let's connect the university.
---
Muni Yammer (MY) is the internal communication network of Masaryk University designed to make sharing and communicating information easy for MU employees. Yammer enables you to create working groups for collaboration and communication. Student involvement in the groups is also possible. This tool is available as a part of the university's MS Office 365 licence and is free for all students and employees.
Share and discuss
This is the place where you can discuss ideas and share information and files across the university. It allows you to communicate, collaborate, and share information efficiently. No more group emails!

Work together in groups
You can create public or private working groups and use them for collaboration and discussion on long-term work tasks and projects.

Keep up to date
Yammer gives you access to all the information you need. Keep up to speed with current events at the university as well as other people's plans and projects – it can even help you find new partners for collaboration.
Participation is free and voluntary
The Muni Yammer communication network is free for all MU students and employees as part of the university's Microsoft Office 365 licence. Participation in MY is voluntary.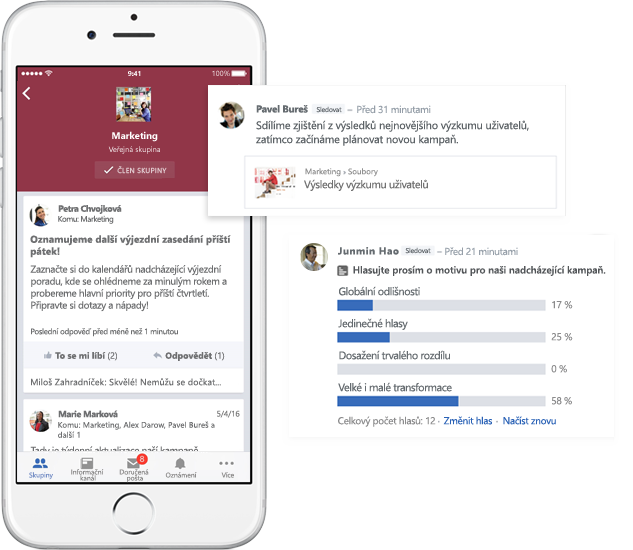 The whole MY network can be easily accessed from your mobile device, tablet, or PC.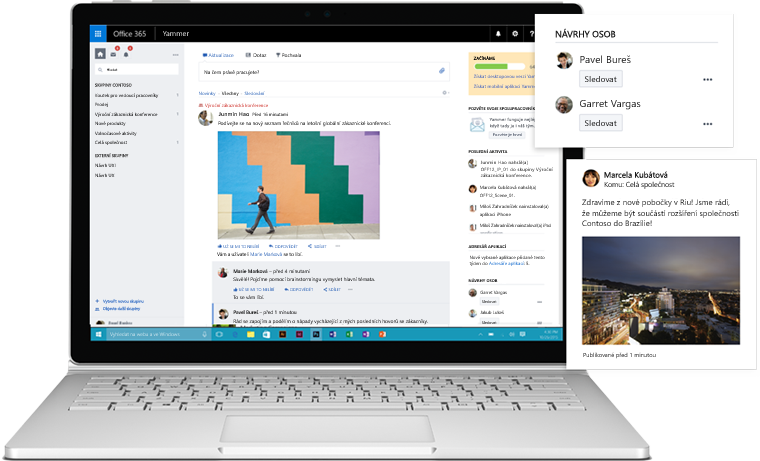 Yammer is available from the following links:
 Groups
There are two types of groups in Yammer – public and private. Posts in public (open) groups are visible to all employees and students of Masaryk University and anyone can participate in the group activity. Posts in private (closed) groups are only accessible to people who have been approved as members by the group administrator. 
All Masaryk University employees are automatically added to the group Zaměstnanci MU (MU Employees – please note that the group name is in Czech) once they log in to Yammer. This group is used to communicate important information and other internal messages to employees and to help onboard new colleagues.
MY interface preview
Who can use the service?
Yammer is available to all students and employees of Masaryk University as a free service. To be able to use Yammer, you need an Office 365 account, which is automatically created for all students and employees once they are assigned a university identification number (UČO).
Further information
Redirects to web-based Office 365. Enter učo@muni.cz. You will be redirected to the single sign on page, where you will enter your učo (personal indentification number) and primary password.